Makino State-of-the-Art Pallet System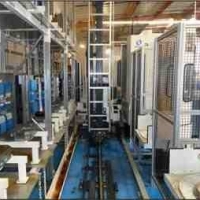 AFAB and Makino Authentic Matt Carpenter Jersey – together, we're Making What Matters…
Back in December of Authentic Matt Slauson Jersey 2014 Makino paid us a visit.  Why, you ask?  Well, exactly, why?  To talk to us about why we bought a Makino Flexible Manufacturing System and of course to find out Authentic Matt Carpenter Jersey how it was working for us.
Here's what we told them…
For AFAB Precision Machining, the Authentic Matt Slauson Jersey foundation Authentic Matt Carpenter Jersey for success Authentic Matt Slauson Jersey is built on a
service-oriented philosophy that steers our long term commitment to exceed client expectations. We firmly believe Authentic Harold Jones-Quartey Jersey that our customer's success is our success.
In order to achieve mutual benefit, we know we must drive internal innovation.  We recently did so with the purchase of a Makino a51nx horizontal machining center with a 12-pallet MMC2 system that has cut cycle times in half.  We know that having an operator stand in front of each machine is no longer a competitive way Authentic Harold Jones-Quartey Jersey of doing business.  For AFAB, the journey to to innovation and success lies in automation.
"We have always believed in a customer centric philosophy, following our 4 C's methodology; Customer Service, Confidence, Capability and Commitment. The Makino system has added a 5th C through increased Devin Hester Jersey Capacity," said Larry Campbell, President.  "The Makino provides the flexibility and competitive Authentic Harold Jones-Quartey Jersey production run pricing our Eric Weems Womens Jersey customers deserve."
To read Devin Hester Jersey the entire article Devin Hester Jersey and view the Eric Weems Womens Jersey interview video with Larry Campbell, follow the link Eric Weems Womens Jersey below…